SpinDr in the NCAA
See The Spin Dr in Action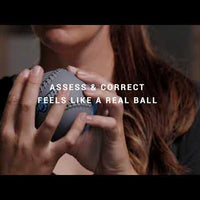 Eliminate the guesswork. 
The SpinDr, patent-pending, gives pitchers of all ages immediate visual feedback of their spins with a training tool engineered to feel and spin exactly like a full softball. 
The 7oz and 10oz SpinDr are for all ages 12u+ and are used for different purposes.
7oz: The 7oz is the weight of a softball and perfect for pitchers 10u and younger learning how to spin (beginner). 
10oz: The 10oz has added weight to help you train. It's best used to strengthen the fingers, wrist, and forearm to improve your spins (advanced).
Purchase The SpinDr and take your pitching to the next level because when you control your spin, you control the game.
Pitchers are loving the SpinDr
What people are saying about us
A Game Changer
Elaine M, 12u Mom
Using this ball has been a game changer for us. My daughter first used it when learning to throw her rise ball. Learning a new spin with this ball only took three lessons. Without it, it may have taken us a month or more to master… She can use this ball inside when it rains, and we have used it in a hotel room to practice spins before a tournament.
The SpinDr Did Wonders
Jillian H, D1 Pitcher
This ball did wonders for my spins! I was able to clearly see the rotation of my spins with the flat surface, and it was nice to have the feeling that I was gripping a regular sized softball. I highly recommend it!
Recommend to Anyone
Randy M, 10u Dad
I would recommend the Spin Dr ball for anyone wanting to work on their spin. It provides instant feedback so you can make the adjustments to your pitches.  I saw a big improvement after my daughter worked with Spin Dr.
Jamie Southern
Founder
Jamie Southern was a 4-time D1 1st Team All-American pitcher, USA Softball National Team member, 1st round selection in the NPF draft, high school and collegiate softball coach, and is a recognized expert for private softball pitching instruction. She understands what it takes to achieve pitching success at the highest levels of collegiate and professional softball and knows how to unlock a pitcher's full potential with proper spin mechanics.