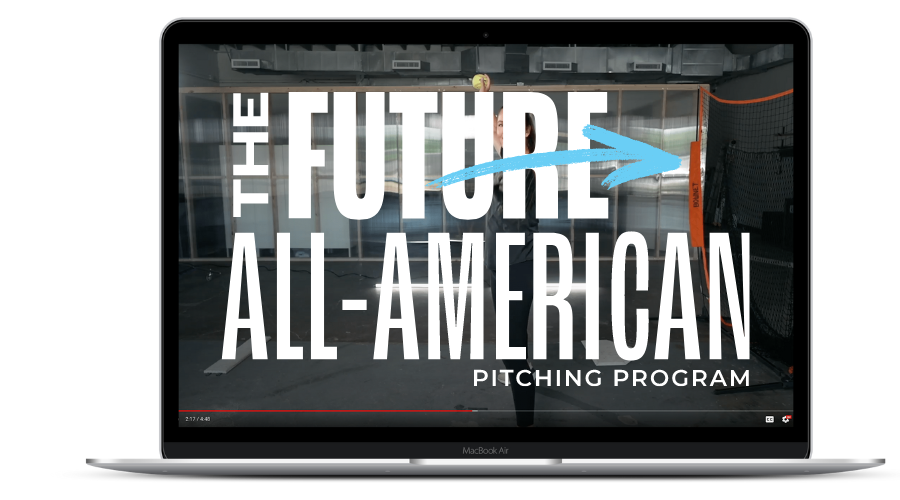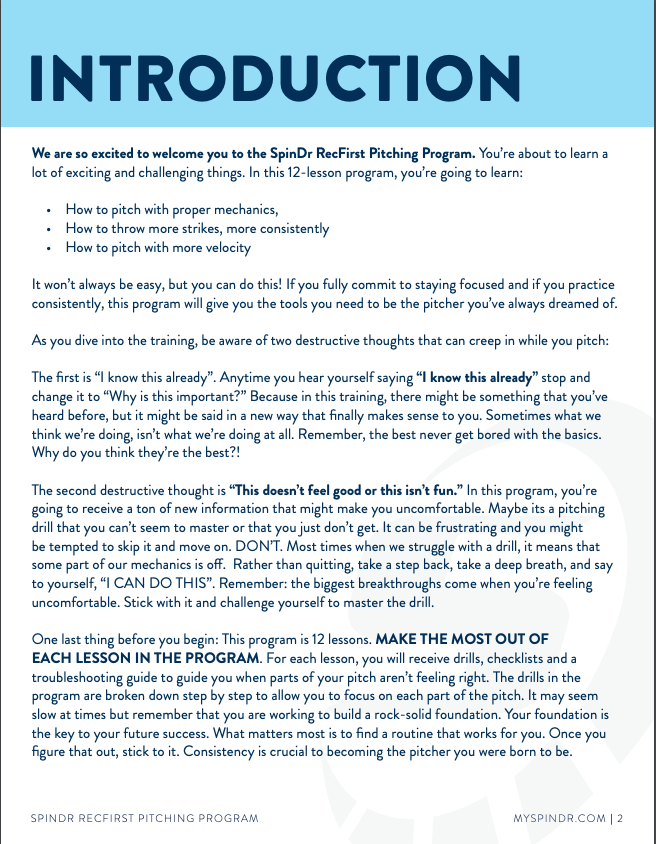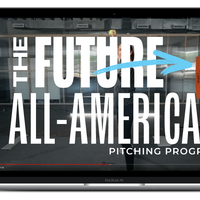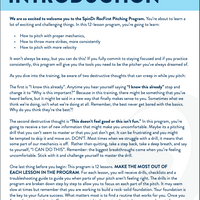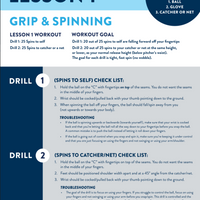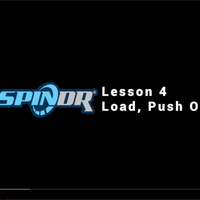 The Future All-American Pitching Program gives beginner pitchers everything they need to learn the fundamentals of pitching.
In this 12-lesson program, pitchers will learn:
How to pitch with proper mechanics
How to throw more strikes, more consistently
How to pitch with more velocity
Program Contents:
12 lessons that build, sequentially, on the mechanics taught in the previous lesson and practiced at home. 

The mechanics/motion of softball pitching is broken down step by step to allow you to focus on each part of the pitch. It may seem slow at times but remember that you are trying to build a rock-solid foundation. Your foundation is the key to your future success. What matters most is to find a routine that works for you. Once you figure that out, stick to it. Consistency is crucial to becoming the pitcher you were born to be.

Once you are finished with the program, and if you have practiced the drills provided, you will be ready to pitch and compete at the 8u, 10u, or 12u level. 
1. Grip & Spinning
2. Whip & Release
3. Rythm from the Start
4. Load & Push-off
5. Swinging Arms to Superman
6. Left Leg Purpose from Push-off
7. Shifting Weight from Push-off Leg to Other Leg
8. Drag (Toe Down, Heel Up)
9. Finish Knee Pulls Through
10. Glove
11. Ball Hand/Arm
12. Putting It All Together

Each lesson has a video and workbook that walk the pitcher through 1-3 drills to perfect each specific component of the pitching motion. Each lesson builds sequentially on the skills mastered from the lesson before.
FAQ
No. Absolutely not. There is zero experience required to begin this program. In fact, we designed the RecFirst Pitching Program with the beginner in mind.
This all depends on how quickly you master the skills presented in each lesson.We recommend you complete a maximum of 1-2 lessons per week. Remember, the more time spent in each lesson, the better pitcher you will be at the end of the program. Focus on mastering the fundamentals so that you can build a rock-solid pitching foundation.
Not in this program. This program was designed to teach the mechanics of the pitching motion not how to throw individual pitches. If you are interested in learning how to throw pitches with greater spin, check out The SpinDr here.
Absolutely! Our SpinDr coaches would love to help you via our online coaching offering, The Checkup. At any time, if you have questions about your mechanics or about the drills that cannot be answered in the troubleshooting guide, purchase a Checkup Session here, film a video of yourself explaining your question, text it to your SpinDr coach*, and within 48 hours, you'll receive a personalized video response with helpful tips, drills, and feedback to help you unlock your pitching potential.

*All SpinDr coaches were D1 All-American pitchers or coaches or were players or coaches on the USA National Team.
Our goal is to get you a response within 48 hours, if not sooner.