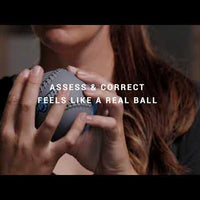 Eliminate the guesswork. 
The SpinDr, patent-pending, gives pitchers of all ages immediate visual feedback of their spins with a training tool engineered to feel and spin exactly like a full softball. 
The 7oz and 10oz SpinDr are for all ages 12u+ and are used for different purposes.
7oz: The 7oz is the weight of a softball and perfect for pitchers 10u and younger learning how to spin (beginner). 
10oz: The 10oz has added weight to help you train. It's best used to strengthen the fingers, wrist, and forearm to improve your spins (advanced).
Purchase The SpinDr and take your pitching to the next level because when you control your spin, you control the game.
The SpinDr is for all aspiring and developing pitchers. Whether you're in 10U and under and just getting started, or you're an elite level high school or college pitcher looking to perfect your spin, the SpinDr will take your pitching to the next level.
Share
Get The Weekly Dose Pitching Workouts FREE When You Purchase the SpinDr
A $29.99 value that you get absolutley free when you buy either the 7oz or the 10oz SpinDr trainers.
The Pitching Workouts Vol1 includes 40 pitching workouts for softball pitchers, by softball pitchers. 
From Jamie Southern, former 4X D1 All-American, Team USA World Champion, private pitching coach for 20+ years, and current D1 pitching coach, these workouts are used by the top pitchers and coaches across the US and across the world. 
Every workout can be classified into one of three areas: 
Mechanics (motion, spins, etc)
Mindset (gametime situations for batters, umpires, strategy, etc)
Self (breathwork, visualization, recruiting, etc)
Frequently Asked Questions
Both! If you are looking to maximize your training, then having the 7oz and 10oz will give you the opportunity to train with one that is the weight of a real ball and one that is weighted for strength development. If you're only looking to get one, then follow the following guidelines:
The 7oz is perfect for 10U and under. It's the weight of an actual softball and is great for an introduction to spin.
The 10oz is perfect for everyone over 10U, as it's weighted to help strengthen the fingers and wrist.
Most spin trainers feel like hockey pucks, so it's hard to simulate the actual release of a pitch and thus the real spin. Because the SpinDr feels like a real ball, you are able to get actual practice and feedback on your pitch.
As a pitcher, spin is everything. The SpinDr gives you immediate visual feedback on direction & quality of your spin so that you can continue to improve and add pitches to your arsenal.
Yes! We ship worldwide. Shipping will be calculated at checkout, but we offer free domestic shipping on all orders over $60.